The Jennie Lane Cottage is a unique property in historic Cape May.  Just half a block from the beach and the Washington Street Mall, and located on one of the most historic streets in Cape May, the cottage also offers privacy and a sense of being tucked away from the bustle of a busy resort.
With three bedrooms (plus a sofabed), two full bathrooms, a kitchen, living room and dining room, the cottage is ideal for families and small groups of friends, but it's also cozy enough for a couple.  The location means you are only a few steps from most of Cape May's restaurants and shopping, not to mention the beach.
See interior photos here.
Children are welcome, but our homeowners association prohibits pets.  (Sorry.)  The cottage also is a no-smoking environment.
Although Cape May offers more than enough entertainment, the cottage does have two TVs with cable, and a DVD/VCR in the living room.  We've also installed Wi-Fi for those who prefer their surfing to be on the Internet.
All of our rentals are arranged through Coldwell Banker Sol Needles Real Estate.  You can reach them by phone at 1-800-441-8428 (toll free) or 609-884-8428 or by email at realestate@coldwellbankercapemay.com.
For more information on renting the cottage, click here.
Key Facts
Location:
41 Jackson Street

Cape May, New Jersey

Rooms:
Living room

(with sofabed)

Dining room

Full kitchen

Porch

3 bedrooms (queen bed, double bed, 2 twin beds)

2 bathrooms

Sleeps:
6 in bedrooms

8 if you use the sofabed

Amenities:
Cable TV (living room and master bedroom)

DVD and VCR

Wi-Fi Internet
Microwave

Dishwasher

Phone (incoming, local and toll-free calls)

Parking:
Pass for two cars to park in a Cape May
municipal lot

Linens:
Bring your own or rent linens from a local linen
service

Paper goods:
Bring your own

Beach Tags:
Cape May does not permit beach tags to be shared
or passed from one user to another.

Tags are available from City of Cape May booths
for $8/day, $15/3 days, $20/Saturday-Saturday,
$30/season.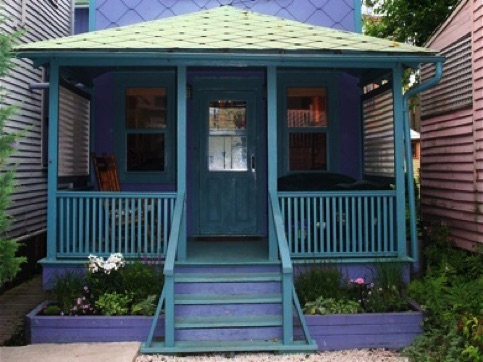 Spend some time on the porch